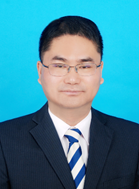 Dr. Zhao zhenbing is a professor and a doctoral supervisor of the school of electrical and electronic engineering, North China Electric Power University.
He is a CCF senior member and CSIG senior member. He is the director of IEEE PES artificial intelligence sub committee, member of CES artificial intelligence and electrical application special committee, chairman of CCF YOCSEF Baoding 2021-2022, member of computer vision special committee, member of Standards Working Committee, member of CSIG visual big data special committee, member of imaging detection and perception special committee, member of communication video special committee, member of CSEE power communication special committee and member of artificial intelligence Special Committee. He is an IEEE TIM editorial board member and serves as chairman of ICPDS 2021 procedure Committee.
He has been engaged in the research of power artificial intelligence technology for a long time.
At present, he has won 2 provincial first prizes for scientific and technological progress. He published 2 monographs as the first author and more than 50 papers, presided over 10 vertical projects and over 7 cooperation projects of power enterprises. 16 national patents were granted as the first person.