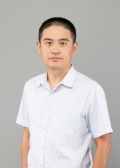 Assoc. Prof. Xueqian Fu,China Agricultural University,China
Xueqian Fu (Member, IEEE) received his B.S. and M.S. degrees from North China Electric Power University in 2008 and 2011, respectively. He received his Ph.D. degree from South China University of Technology in 2015. From 2011 to 2015, he was an electrical engineer with Guangzhou Power Supply Co. Ltd.. From 2015 to 2017, he was a Post-Doctoral Researcher with Tsinghua University. He is currently an Associate Professor at China Agricultural University. His current research interests include statistical machine learning, Agricultural Energy Internet, and PV system integration.
He is an associate Editor-in-Chief of "Information Processing in Agriculture", an editorial member of "Journal of Solar Energy Research Updates", and an associate editor of "Protection and Control of Modern Power Systems", He served as Guest Editor of special issues of Energy System Planning and Design, "Applied Sciences". He is also Guest Associate Editor in Smart Grids, "Frontiers in Energy Research", and his Research Topic is "Control, Operation and Trading Strategies of Intermittent Renewable Energy in Smart Grids". In 2020 and 2022, he served as the Session chair of the 2020 and 2022 Asia Energy and Electrical Engineering Symposium (IEEE AEEES 2020, IEEE AEEES 2022).